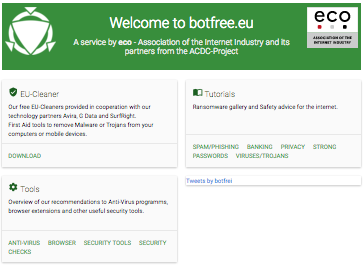 As part of the European Cyber Security Month, the website botfree.eu has been re-launched today. It has been initially setup as part of the European Cyber Security project ACDC (Advanced Cyber Defence Centre), which focussed on fighting botnets from 2013-2015.
Botfree.eu previously acted as a simple landing page for the national anti-bot support centres that had been built up during the project in ten European countries and also in Mozambique.

One year after the project end, the website has now been redesigned and turned into a functional European anti-bot support centre. This service is now being operated by
eco – association of the Internet Industry
, with support from its partners from the ACDC-Project. eco already offers the
German anti-bot support centre Botfrei.de
, started in 2010, and took the role of project coordinator of ACDC.
The focus of the Botfree.eu service and an anti-bot support centre is to provide
first aid
to victims of Malware and Botnets, but also to give advice on how to stay protected from malware and other cyber threats like
phishing
or
ransomware
. The security vendors
G DATA
,
SurfRight
– a Sophos Company and Avira provide free EU Cleaners that allow users to scan their devices and to remove detected malware, even on Android devices.
Additional tools like the
Android Device Monitor
from the Slovenian company
XLAB
and the
CONAN app
from the Spanish CERT
INCIBE
widen the mobile portfolio.
Additionally, Botfree.eu also hosts an English version of Botfrei.de's
Ransomware Gallery
. This gallery provides an overview of the various ransomware types from recent years, along with information and instructions about possible solutions for removal.
Internet users can also rely on the English section of the
Botfrei.de Support Forum
to get assistance with removing malware from infected devices. The latest news from the Internet security realm gets distributed through the Twitter-Account
@antibotnet
National chapters of botfree.eu are found in Belgium, Bulgaria, France, Germany, Italy, Croatia, Luxembourg, Portugal, Romania, Spain and Mozambique.